California Family Immigration Lawyer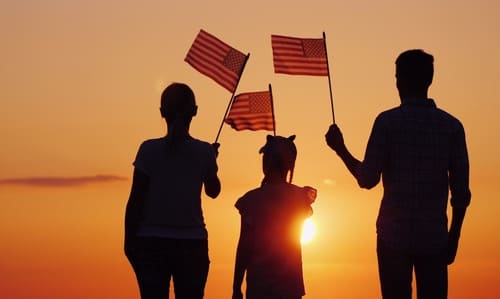 Part of living the American Dream is not just attaining permanent residency status or citizenship for yourself but also for your family. Many individuals dream of the day they can bring over family members to live here permanently with them on U.S. soil.
The process of seeking a family immigration visa is fairly straightforward, but that doesn't always make it easy. Even with immediate family member immigration visas, there could be issues with filing paperwork and proving relation.
In cases where a family member is considered a lower priority, they may wait months or years before a visa number is made available.
Singh Ahluwalia Attorneys at Law has helped hundreds of thousands of immigrants live out their dreams of coming to the U.S. and reuniting with their families here. From petitions for immediate family members of U.S. citizens to K-1 visas to non-immigrant visas like V and F-2 visas for student family members, we have submitted the full range of applications on behalf of family members worldwide.
We also offer immigration appeals services for denied applications and services such as writ of mandamus submissions to hasten the timeline for certain applications.
You deserve an experienced family immigration lawyer to work with you on these sensitive matters, which is exactly what Singh Ahluwalia Attorneys at Law can provide. Find out more about your legal options for family immigration, and get answers to your questions during a no-obligation case review.
Schedule your no-risk consultation now when you Call (559) 878-4958 or Contact us online.
What Kinds of Cases Can a California Family Immigration Attorney Assist With?
As a firm of experienced family immigration attorneys, we can assist with all immigration matters. Our record of successful cases goes beyond visa applications and includes petitions for change of status to avoid deportation and appeals for denials of family visa applications.
In family immigration law, we have deep knowledge of the application process, including what factors USCIS looks for when determining whether to issue a visa number promptly. Let us assist you by providing you with guidance every step of the way and the knowledge and resources that can help maximize your chances of successfully bringing family members to live with you.
Some of the most common types of cases our California family immigration lawyers handle include the following:
IR-1, IR-2, IR-3, IR-4, and IR-5 visas for family members of U.S. citizens
K-1 visas for engaged partners of U.S. citizens
Petition for change of status to lawful permanent resident (green card holder)
Naturalization for LPR family members of U.S. citizens
Family Immigration Services for Relatives of U.S. Citizens
Most U.S. Citizens have the legal right to request that foreign family members living abroad are granted an immigrant visa. Once the family member has immigrated to the United States, their relative can petition using form I-130 for them to receive lawful permanent resident (LPR) status and be given a green card.
Anyone who is the immediate spouse of a U.S. citizen or a dependent, unmarried child under age 21 can expect to receive automatic approval in most instances. Anyone who has obtained a K-1 visa for a foreign fiancé(e)s of a U.S. citizen can also expect to receive LPR approval.
Once the application is submitted, all that has to be established for "automatic" immigrant visas for dependents of U.S. citizens to be approved in most cases is that:
The person is legally the spouse or child of the petitioner
The petitioner has the means to support the spouse or child while they remain in the U.S.
Preference Tiers for Certain Family Members of U.S. Citizens
Married children, adult children over age 21, and more-distant family members like parents and siblings are considered lower preferences. They may have to wait to receive a visa number before obtaining an immigrant visa.
Once a visa number is available, USCIS will notify the petitioner, and they can apply for their family member to be issued a visa.
Visa numbers are granted according to a limited availability per year, averaging about 225,000 annually.
The preference given to applicants is based on their relationship with the petitioner. USCIS will generally approve visas according to the preference category first and the date of submission second. Depending on the preference category, a family member can expect to wait a few months to a few years before they can secure their visa number.
Categories of preference are as follows:
F-1 — Unmarried children over 21 of U.S. citizens
F-2 — Spouses and children (under 21) of LPR status holders (F-2A), unmarried children 21 and older (F-2B)
F-3 — Married sons and daughters of U.S. citizens
F-4 — Brothers and sisters of adult (over 21) U.S. citizens
Family Immigration Services for Relatives of Lawful Permanent Residents
Most green card holders (LRP status) can request an immigrant visa for their spouse and unmarried children under age 21. Unlike immediate relatives of U.S. citizens, these individuals are not guaranteed the ability to receive their visas.
Instead, they must wait until they are chosen, in order of preference, to be assigned a visa number. The number of visas available per category can be seen by checking the monthly visa bulletin on the U.S. Department of State's Bureau of Consular Affairs website.
Anyone can also check their case status for their application, petition, or request on the USCIS case status tool web page.
There may be other methods of obtaining a visa and a green card for family members of green card holders. Review your situation with your California family immigration attorney to determine your options based on your employment history, skills, line of work, and other factors that USCIS may consider relevant to seeking an immigrant visa for family members.
Types of Immigrant Visas Issued
There are several common visa types issued to family members of U.S. citizens, which are listed below:
IR-1: Spouse of a U.S. citizen.
IR-2: Unmarried children under 21 years of age of a U.S. citizen.
IR-3: Orphan adopted abroad by a U.S. citizen.
IR-4: Orphan to-be-adopted in the U.S. by a U.S. citizen.
IR-5: Parents of a U.S. citizen at least 21 years old.
K-1: Fiancé visa issued to someone engaged to a U.S. citizen and expected to be married within the next 90 days
Can I Bring My Family Over on a Non-immigrant Visa?
Technically, yes. Family members of LRP status holders and naturalized U.S. citizens can visit temporarily using visas like the B-2 visa. However, the individual has to officially declare that they intend to return to their home country after their trip.
To be eligible to immigrate permanently to the U.S. after being issued a non-immigrant visa, they must return home for a minimum number of days and then have a U.S. citizen or green card holder petition for an immigrant visa.
Holders of non-immigrant visas may also request family members join them during their stay. In these cases, every family member has to declare their intention to return to their home country and cannot, therefore, request a change of status or an immigrant visa while on U.S. soil.
Examples of family visas for non-immigrants include:
F-2 visa
B-2 visa
A-1, A-2 visas
V visa
Work With Proven Family Immigration Lawyers in California
Singh Ahluwalia Attorneys at Law has made it a central part of our mission to assist separated families in reuniting lawfully on U.S. soil. We do everything in our power to help your relatives come here and remain here, securing green cards and, when possible, U.S. citizenship.
Immigration processes created by the USCIS can seem frustrating and complicated, but you should never give up hope. With the help of our California immigration attorneys, you can explore every possible option for bringing family members here and having them stay as long as possible — often, permanently.
Find out more about your legal options and what to expect from the U.S. family immigration process during a no-obligation case evaluation. Call (559) 878-4958 or Contact us online to schedule your no-risk case review today.